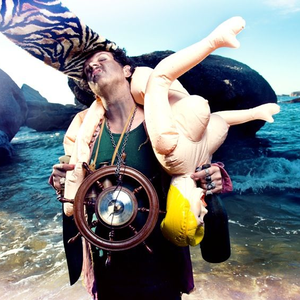 Official Site Wikipedia MusicBrainz Discogs All Music Guide Last.fm Yahoo! Music
Jack Parow on iTunes Jack Parow on Amazon
Jack Parow is an Afrikaans rapper from Bellville, Western Cape, South Africa He is well known for his contribution to the song Die Vraagstuk with Die Heuwels Fantasties. He also performed with Die Heuwels Fantasties at the Oppikoppi Music Festival in 2009. He is also known for his contribution to and collaboration with Die Antwoord and Fokofpolisiekar in their songs "Wat Pomp" and "Doos Dronk." His debut single Cooler as ekke has become his most recognisable song, gaining airplay on the Dutch national radio station 3fm. Read more on Last.fm.
Jack Parow [2010]
See larger image
1. Ek wens jy was myne (feat. JR) (3:18)
2. Hier's hy nou (feat. Le-roi Nel) (4:07)
3. Cooler as ekke (4:08)
4. Dans dans dans (feat. Francois van Coke) (3:27)
5. Feite (3:41)
6. I Miss (3:54)
7. Ricky louw (4:09)
8. Farmhouse brekvis (3:42)
9. Die Vraagstuk Remix (3:57)
10. Byellville (3:21)
11. Word wakker (3:33)
12. Tussen stasies (feat. Die Heuwels Fantasties) (3:40)
13. Parow to paarl (feat. Disco) (8:56)
afrikaans rap/ hip-hop Read more on Last.fm.
Jack Parow on iTunes Jack Parow on Amazon
Torrents: RuTracker What.cd Torrentz The Pirate Bay